The Dog Pool Hydrotherapy Rehabilitation and Fitness Centre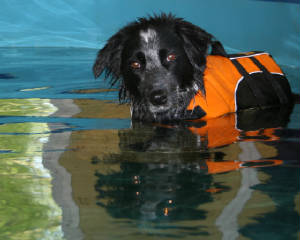 The Dog Pool is a purpose built hydrotherapy pool for dogs.
This is what makes it so special, it has been designed especially for dogs. We have a specially designed ramp for access for the able dogs, a hoist for those less able and those timid and frail are assisted in by trained staff. A massive 6.1m by 3.1m oval pool. The pool is 1.4m deep so even the largest of breeds are catered for. We like to see the dogs actually swimming in the pool. Our pool is oval and sunken half way into the ground this way the dogs can naturally swim around no sharp turns. We work at hip height, the natural height for most dogs. This way we can observe the dogs when they are in the water and keep a close eye on their movements. The pool is not just a plain swimming pool. it has jets, which are used for extra resistance when needed, to enable even the fitest of dogs to improve. The water is kept heated throughout the year and we have doggy driers available so no one needs to go home wet.
Members of The Canine Hydrotherapy Association
We are located in Wellow, near Romsey, only 5 minutes from the M27 and 2 minutes off the A36. Our pool is in a purpose built building which also has an area where your dog can exercise off the lead and is totally fenced and secure. The Dog Pool is run by Jayne and Jo, they are fully trained Hydro therapist's and of course long time dog lovers and owners. The Dog Pool has been open for several years and hundred's of dogs have enjoyed swimming. Some of the dogs have been referred to the Dog Pool by their vet to help aid a speedy recovery from an injury, once fit and well they never stop coming the dogs love it so much!
If you are interested in bringing your dog to our pool, please give us a call on my mobile 077 86072322 or our land line 01794 323804 and we will happily discuss your dog's requirements and answer all your questions. If you have the time then why not look through the rest of our web site to learn more about the fun and benefits of swimming your dog.