The Dog Pool is a purpose built hydrotherapy pool for dogs.This is what makes it so special, it has been designed especially for dogs. We have a specially designed ramp for access for the able dogs, for those less able the dogs can be carefully lifted on to our specially designed resting platform, where they can feel safe in the warm water until they are ready to enter the pool. The pool isa massive 6.1m by 3.1m oval pool so the dogs can swim around the pool and it is 1.4m deep - even the largest of breeds are catered for. We like to see the dogs actually swimming in the pool. Our pool is oval and sunken half way into the ground this way the dogs can naturally swim around no sharp turns. We work at hip height, the natural height for most dogs. This way we can observe the dogs when they are in the water and keep a close eye on their movements. The pool is not just a plain swimming pool. it has jets, which are used for extra resistance when needed, to enable even the fittest of dogs to improve. The water is kept heated throughout the year and we have doggy driers available so no one needs to go home wet.
The many features of the pool include:
The benefits of swimming at The Dog Pool are so many but the heated water is a real plus. Swimming in cold water is not as beneficial as swimming in warm water. Cold water can cause cramps and the dogs will be a lot stiffer, it is also very painful for dogs when the cold gets into the bones and joints. The Dog Pool's water is controlled by a thermostat which is means that we can keep the water at a steady temperature, not too hot so it damages the dogs natural oil in their coats and not too cold to cause stiffness.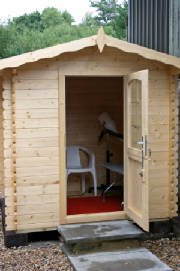 The Drying Room - all fitted out to ensure your dogs go home dry